The island of Pantelleria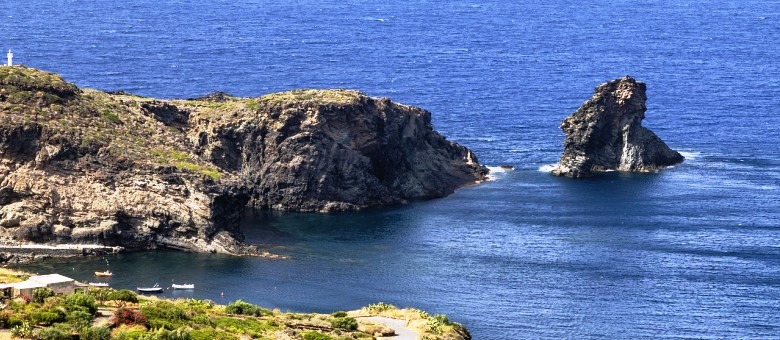 WHAT TO DO AND SEE IN PANTELLERIA
The first questions that may arise in the mind of any traveler are the following: "what to do and see in the island of Pantelleria?".
For the answer to these questions you should entrust to our travel agency "Travelandfair Dammusi Vacations Pantelleria", which for over 20 years, is trying to higlight the beauty and uniqueness of this place, answering your curiosity, in the most consistent way.
Pantelleria is a singular and special land, located between the African coast and Europe, being the last of the Sicilian islands, resembling a rebellious daughter, born from the foam of the sea and the fire of the volcanoes.
Pantelleria was discovered for the first time as Bent-el-rhià which in the ancient Phoenician language means "daughter of the wind", and nowadays, we often find it called "The Black Pearl of the Mediterranean" thanks to the lava and obsidian rock formations.
With great therapeutic and energetic properties, the island is indicated for its thermal treatments. Nowadays, volcanic phenomena are reduced to hot waters and steam puffs, and the last eruption dates back to the 19th century.
On the territory of this island you will find a cohesion of different cultures, which throughout history, have marked this land, such that here coexist traces of Byzantine, Roman and Arab civilizations.
From the typical settlements, such as the dammuso, the typical house built during the Arab era in respect of the surrounding environment, designed not to impose itself on the territory, but to adapt and blend with it.
To the gastronomy that offers a variety of dishes related to rural roots with influences of maritime culture, Pantelleria offers a unique experience that will take you through time, history and the different eras that have colonized this land.
So, if you want to create a pleasant intermezzo between days on the beach or by the pool, you can venture out to discover the archaeological sites that the island offers.
For example, those that make up the area of Mursìa and Cimillia, or the hills of San Marco and Santa Teresa, where you can admire the amazing acropolis and Roman necropolis, where in 2003, were found the heads of Roman statues of Julius Caesar, Titus and Antonia dated back to the first century AD.
An ideal vacation in these lands can not be concluded if not tasting a typical local wine such as the famous Passito di Pantelleria or the sweet Zibibbo, sparkling wine that can only be produced on the island, thanks to the typical vine to sapling, type of cultivation characteristic of the island.